16-04-2020 | ORIGINAL PAPER | Uitgave 6/2020 Open Access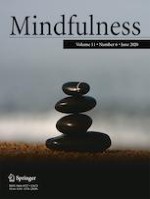 A Mindfulness Program to Improve Resident Physicians' Personal and Work-Related Well-being: a Feasibility Study
Tijdschrift:
Auteurs:

Johannes C. Fendel, Vanessa M. Aeschbach, Anja S. Göritz, Stefan Schmidt
Belangrijke opmerkingen
Publisher's Note
Springer Nature remains neutral with regard to jurisdictional claims in published maps and institutional affiliations.
Abstract
Objectives
Many resident physicians suffer from mental distress. This endangers the individual physician as well as the quality of patient care. This study tested the feasibility of a novel 8-week mindfulness program tailored to improve resident physicians' personal and work-related well-being.
Methods
Participants were nine resident physicians from a major hospital in southern Germany. Feasibility was assessed in seven domains (demand, acceptability, implementation, practicality, adaptation, integration, and preliminary effectiveness), using self-reports, attrition, attendance, and daily home practice. Using a pre-post within-subjects design, changes were assessed in hair cortisol as a biomarker of stress as well as in self-reported personal and work-related well-being.
Results
The program is feasible in all domains. Participants positively rated the program regarding satisfaction, helpfulness, usage, and personal and professional benefit. All participants indicated to recommend the program. There was no study attrition, high attendance, and an average daily home practice of 13.5 min. A medium reduction was observed with hair cortisol secretion (
d
 = 0.64). In terms of personal well-being, medium-to-large improvements were observed with perceived stress (
d =
0.58), mental health (
d =
0.77), self-attributed mindfulness (
d =
0.92), and self-compassion (
d =
1.21). In terms of work-related well-being, small-to-medium improvements were observed with self-reported job strain (
d =
0.58), effort-reward imbalance (
d =
0.36), work-related burnout (
d =
0.32), thriving at work (
d =
0.24), and physician empathy (
d =
0.21).
Conclusions
This study provides evidence that a tailored mindfulness program is feasible and may be effective in reducing hair cortisol secretion and improving resident physicians' personal and work-related well-being. These promising findings warrant further investigation within a randomized controlled trial.