22-01-2019 | Uitgave 4/2019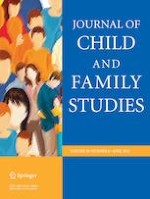 A Mindfulness-Based Intervention for Unaccompanied Refugee Minors: A Pilot Study with Mixed Methods Evaluation
Tijdschrift:
Auteurs:

Katleen Van der Gucht, Jana Glas, Lucia De Haene, Peter Kuppens, Filip Raes
Belangrijke opmerkingen
Publisher's note:
Springer Nature remains neutral with regard to jurisdictional claims in published maps and institutional affiliations.
Abstract
Objectives
Unaccompanied refugee minors (UMs) experience worry and rumination, owing to living in refugee shelters and confronting many stressors that range from finances to health problems to personal safety concerns. The purpose of this study was to explore the feasibility of a mindfulness-based intervention (MBI) for UMs residing at the shelters of Minor Ndako in Belgium.
Methods
Of the 34 residents attending an information session, 13 expressed an interest to participate. Participants were between 13 and 18 years old. A MBI was offered in small groups between March 2015 and July 2016. The impact on symptoms of depression, positive and negative affect and on symptoms of post-traumatic stress was examined using questionnaires. Four individuals participated in a qualitative assessment on how they experienced the mindfulness.
Results
Quantitative findings suggest that a MBI may reduce negative affect and improve positive affect, both with a medium effect size, and reduce symptoms of depression with a large effect size. Qualitative analyses show that experiences are unique and different among participants. Participants who completed the training make use of the mindfulness exercises as a new coping strategy in combination with other familiar coping strategies.
Conclusions
Although the feasibility in this population is not straightforward, results suggest that it may be useful to deliver MBIs in refugee shelters for UMs. These results are preliminary and have to be interpreted with caution due to the small self-selected sample. Therefore the results of this study can only be interpreted as initial, and in need of replication.