Gepubliceerd in: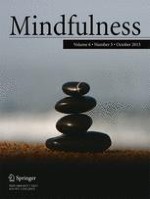 26-10-2014 | ORIGINAL PAPER
A Mindfulness-Based Intervention for Economically Disadvantaged People: Effects on Symptoms of Stress, Anxiety, and Depression and on Cognitive Reactivity and Overgeneralization
Gepubliceerd in: Mindfulness | Uitgave 5/2015
Log in om toegang te krijgen
Abstract
The chronic exposure to stress of living with less money than one needs affects people's well-being. Studies show that mental un-well-being is associated with socioeconomic inequalities and that poverty-related stress is directly related to symptoms of anxiety and depression. We offered a mindfulness-based intervention (MBI) between September 2011 and September 2012 to a sample of low-income urban adults in Brussels and Antwerp, Belgium. The impact on symptoms of stress, anxiety, and depression was examined together with the effects on cognitive vulnerability processes of cognitive reactivity and overgeneralization and on the development of mindfulness skills. Results suggest that the MBI significantly reduced symptoms of stress, anxiety, and depression and cognitive reactivity and overgeneralization and significantly improved mindfulness skills. Greater improvement in mindfulness skills caused by MBIs might result in greater reduction in both symptoms and cognitive vulnerabilities. These findings provide promising evidence of the effectiveness of MBIs to promote economically disadvantaged people's well-being. The results are consistent with previous studies that have examined the effectiveness of MBIs in other populations and show that a MBI is feasible in social welfare centers that serve low-income adults.