18-10-2016 | Original Article | Uitgave 2/2017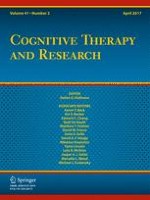 A Meta-Analytical Approach of the Relationships Between the Irrationality of Beliefs and the Functionality of Automatic Thoughts
Tijdschrift:
Auteurs:

Radu Şoflău, Daniel O. David
Abstract
Although irrational beliefs (IBs) and automatic thoughts (ATs) have been proposed as mechanisms that contribute to psychopathology in the Cognitive Behavioral Therapy (CBT) model, surprisingly, no previous study systematically evaluated the magnitude and direction of the relationship between the two central constructs. Therefore, the present meta-analysis aimed to evaluate this association, considering its theoretical and clinical importance. We conducted a systematic search of the literature and included 34 experimental and correlational studies suited for the purpose of this meta-analysis, comprising 5086 participants. Results indicated a significant (
p
< .001) medium sized association (
r
= .43) for the relationship between the irrationality of beliefs and the functionality of ATs, higher levels of IBs being associated with more dysfunctional ATs. The magnitude of the relationship does not depend on the specific CBT theoretical model through which the two variables were approached and it is not influenced by the context, nor by the object of the beliefs. However, the content of beliefs appears to impact on this relationship, given that the results revealed a significant (
p
< .001) large effect size (
r
= .58) for the association of ATs with certainty beliefs, but no association was present for control beliefs. Results also suggest that primary and secondary IBs equally impact on ATs' functionality and should be equally addressed in psychological interventions. Further theoretical and practical implications, and future directions are discussed.