Gepubliceerd in: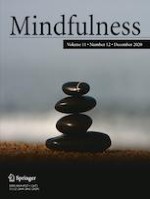 05-08-2020 | ORIGINAL PAPER
A Meta-analysis of Mindfulness-Based Interventions in Adults with Attention-Deficit Hyperactivity Disorder: Impact on ADHD Symptoms, Depression, and Executive Functioning
Gepubliceerd in: Mindfulness | Uitgave 12/2020
Log in om toegang te krijgen
Abstract
Objectives
Mindfulness-based interventions (MBIs) are increasingly used in adults with attention-deficit hyperactivity disorder (ADHD). The aim of the current study was to conduct a meta-analysis of the available studies on the effects of MBIs on ADHD symptoms, depression, and executive functioning in adults diagnosed with ADHD.
Methods
Screening and selection of peer-reviewed literature using PRISMA-P guidelines on PsycINFO, PubMed, SCOPUS, and ERIC databases from inception to July 2019
Results
A total of 14 studies were included in the meta-analysis, for an aggregated sample of 834 adults with ADHD. Overall, the results showed that MBIs are effective to treat ADHD symptoms in adults, as well as to reduce depression and dysexecutive problems post-intervention.
Conclusions
MBIs are useful to improve ADHD symptoms, negative affect, and cognition in adult ADHD. The results contribute to better understanding and encourage the use of non-pharmacological treatments in ADHD.