01-07-2012 | Uitgave 5/2012 Open Access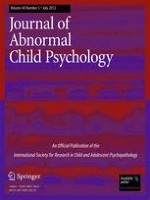 A Meta-analysis of Attachment to Parents and Delinquency
Tijdschrift:
Auteurs:

Machteld Hoeve, Geert Jan J. M. Stams, Claudia E. van der Put, Judith Semon Dubas, Peter H. van der Laan, Jan R. M. Gerris
Poor attachment to parents is considered to be one of the causes of delinquency (Bowlby
1944
; Hirschi
1969
). Although many empirical studies found evidence suggesting that poor attachment to parents increases the risk of delinquent behavior, a systematic review of the link between attachment and delinquency has not been conducted yet. It seems important to know how strong attachment is associated with delinquency in males, females and various age groups, as this knowledge can be used to develop and improve intervention programs that target delinquency in youth. We therefore seek to integrate results from empirical studies examining the association between attachment and delinquency by means of a meta-analysis.
Attachment and Delinquency
Age Effects
To what extent the link between attachment and delinquency changes over the life course is unclear. At least two rival hypotheses concerning the attachment-delinquency link over time can be drawn. Static theories postulate that the variation in criminal behavior is explained by individual differences in latent criminal propensity, and that these individual differences remain constant over time (Ezell and Cohen
2005
). Hirschi and Gottfredson (
2001
, p. 229) even state that 'identification of the causes of crime at one age may suffice to identify them at other ages as well – if so, cohort or longitudinal studies of crime are unnecessary'. Thus, according to this hypothesis the link between attachment to parents and delinquency should be similar across late childhood, adolescence and emerging adulthood.
Dynamic developmental theories assume that change is possible. For example, Sampson and Laub's (
2005
) age-graded social control theory assumes that changes in life circumstances may generate turning points in an individual's criminal career. Thus, in contrast to static theories, dynamic theories postulate that life circumstances are related to criminal behavior and that crime can be modified over the life course. According to Sampson and Laub (
2005
), delinquent behavior is inhibited during childhood and adolescence by bonds to the family and school. During (young) adulthood, social ties to labor or marriage and turning points in life can modify trajectories of criminal offending. Based on dynamic theories, such as that of Sampson and Laub, the influence of family ties should diminish in late adolescence and young adulthood as the individual makes other important social ties. Thus, while static theories, such as the theory of Hirschi, assume that the attachment-delinquency link is independent of age, dynamic models such as the age graded theory of Sampson and Laub, state that the attachment-delinquency link is strongest during childhood and gradually decreases during adolescence and early adulthood.
Sex-differences
The Present Study
Many studies found evidence to suggest that poor attachment relationships to parents increase the risk of delinquent behavior. The inconsistencies in the literature, however, make it difficult to summarize the results in a narrative review. Previous studies did not summarize potential sex-differences in the link between attachment and delinquency, and it is therefore unknown whether the attachment-delinquency link is gender-specific or neutral. Given that studies examining attachment to mothers and fathers separately are scarce, it remains unclear whether attachment to father has a different effect on delinquency in sons and daughters than attachment to mother. Finally, previous studies have not systematically investigated whether the attachment-delinquency link varies by age, that is, whether this link is stronger in younger children than in adolescents and early adults.
The aim of the present meta-analytic study is therefore to examine the extent to which attachment is related to delinquency and to gain insight into sex and age differences. This study could advance theories on attachment and delinquency, particularly with regard to potential conceptual differences of attachment constructs in social control and attachment theories, potential gender differences (debate on whether gender specific theories are necessary) and age differences (static versus dynamic theories). It may also provide starting points for developing or improving interventions for delinquent youth or children at risk for delinquency.
The present meta-analytic study addresses the following research questions: Is poor attachment significantly associated with high levels of delinquency? How strong is the association between attachment and delinquency? Is age a moderator of the attachment-delinquency link? Is the association between attachment and delinquency moderated by sex of the child and the parent? We also test whether the attachment-delinquency link depends on the theoretical background of the study (control theory or attachment theory) and measure of attachment (observation, self-report, parent report or multi-method), and whether conceptual differences in attachment constructs (presence of parental control items) influence the relation between attachment and delinquency. Further, we examine moderator effects of methodological characteristics (sample size, publication status, study design and delinquency source) in order to investigate potential influences of study quality on effect size. We also address the relative importance of the moderators and interaction effects of sex and age in a multivariate model.
Method
Results
Discussion
Despite these limitations, this meta-analysis has several strengths. This study connected two areas of research by focusing on empirical studies that have tested hypotheses drawn from social control theory and assumptions from attachment theory. The results were consistent across disciplines. Second, applying a multi-level model made it possible to include all effect sizes with their unique potentially moderating characteristics in the analysis, at the same time correcting for statistical dependency. Third, this meta-analysis tested specific hypotheses drawn from the literature with regard to moderating effects of gender and age rather than testing a series of moderators that are not theory driven as is common in meta-analytic investigations, but increases the risk of chance capitalization. Finally, focusing on a set of limited theoretically based moderators made it possible to build a multivariate moderation model in which the main and interaction effects of age and gender were analyzed, controlling for methodological moderators.
In conclusion, this meta-analysis confirmed that attachment to parents is linked to delinquency in boys and girls. We found several sex differences and age effects: stronger attachment-delinquency links were found in same-sex parent-child pairs compared to cross-sex pairs, and the attachment-delinquency link was stronger for younger participants compared to older participants. These findings suggest that attachment to parents is a viable target for interventions aimed at reducing or preventing delinquency. To be more specific, boys could especially benefit from interventions that focus on relationships with their father, whereas delinquent girls could especially benefit from interventions that focus on the attachment relationship with their mother. When carrying out (preventive) interventions for young delinquents or children at risk for delinquency, one should consider the attachment relationship with parents as a target of intervention. Next to insecure attachment or week bonds to parents these interventions should also aim to improve discipline techniques of parents.
Acknowledgements
We thank Marion van der Zouwen for coding the effect sizes and study characteristics, and Ruben Fukkink, who gave advice on statistical matters.
Open Access
This article is distributed under the terms of the Creative Commons Attribution License which permits any use, distribution, and reproduction in any medium, provided the original author(s) and the source are credited.
Open Access
This is an open access article distributed under the terms of the Creative Commons Attribution Noncommercial License (
https://​creativecommons.​org/​licenses/​by-nc/​2.​0
), which permits any noncommercial use, distribution, and reproduction in any medium, provided the original author(s) and source are credited.