01-08-2011 | Empirical Research | Uitgave 8/2011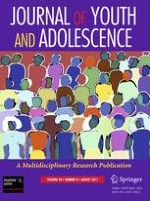 A Longitudinal Family-Level Model of Arab Muslim Adolescent Behavior Problems
Tijdschrift:
Auteurs:

Karen J. Aroian, Thomas N. Templin, Edythe Ellison Hough, Vidya Ramaswamy, Anne Katz
Abstract
Arab-American Muslim adolescents in immigrant families face a number of challenges that put them at risk for behavior problems. This study of Arab-American Muslim Adolescents and their relatively recent immigrant mothers tested a longitudinal family-level model of adolescent behavior problems. Mother-adolescent dyads (
N
= 530) completed measures of maternal and adolescent stressors, active and avoidance coping, and social support; maternal distress; quality of mother–child relationship; and adolescent behavior problems at Time 1 and approximately 18 months later. The youth were between the ages of 11 and 15 years at Time 1 and 48.7% were girls. Longitudinal analyses were conducted using latent change modeling with change scores from Time 1 and Time 2 data. Social support facilitated active coping for both mothers and adolescents. Although maternal avoidance coping mediated maternal stressors and its effect on maternal distress, maternal stressors and maternal distress were not related to adolescent behavior problems. The only factor mitigating the effects of adolescent stressors on adolescent behavior problems was the quality of the mother–child relationship. These findings suggest that adolescents are insulated from maternal stress and distress as long as there is a good mother–child relationship.