01-02-2012 | Uitgave 2/2012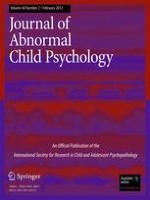 A Longitudinal Examination of Serious Adolescent Offenders' Perceptions of Chances for Success and Engagement in Behaviors Accomplishing Goals
Tijdschrift:
Auteurs:

Anne-Marie R. Iselin, Edward P. Mulvey, Thomas A. Loughran, He Len Chung, Carol A. Schubert
Belangrijke opmerkingen
This project was supported by funds from the following: Office of Juvenile Justice and Delinquency Prevention (2007-MU-FX-0002), National Institute of Justice (2008-IJ-CX-0023), John D. and Catherine T. MacArthur Foundation, William T. Grant Foundation, Robert Wood Johnson Foundation, William Penn Foundation, Centers for Disease Control, National Institute on Drug Abuse (Grant R01DA019697), Pennsylvania Commission on Crime and Delinquency, and the Arizona Governor's Justice Commission. The content of this paper, however, is solely the responsibility of the authors and does not necessarily represent the official views of these agencies. We are grateful to our collaborators who have designed and implemented this study and provided comments on drafts of this manuscript: Robert Brame, Laurie Chassin, Elizabeth Cauffman, Jeffrey Fagan, George Knight, Sandra Losoya, Alex Piquero, and Laurence Steinberg. We are further grateful for the many individuals responsible for the data collection and preparation of this project.
Abstract
We examined antisocial adolescents' perceptions of the importance of and their ability to accomplish positive life outcomes (e.g., employment) and avoid negative ones (e.g., arrests) during their transition from adolescence to young adulthood. Participants were 1,354 adolescents from the Pathways to Desistance project, a multisite longitudinal study of seriously antisocial adolescents. Participants' perceptions of the importance and likelihood of accomplishing positive adult goals at one age uniquely predicted how often they engaged in behaviors that were consistent with these goals the following year. Our findings suggest that among serious adolescent offenders aspirations to achieve positive goals are related to engaging in behaviors that bring adolescents' current selves more in line with their aspired-to future selves. We discuss the implications of these findings for prevention and intervention efforts.