12-05-2015 | Original Article | Uitgave 5/2015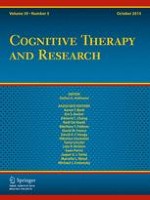 A Feeling You Can't Let Go: Temporal Stability and Vulnerability to Thought–Shape Fusion in Eating Disorders
Tijdschrift:
Auteurs:

Catherine Ouellet-Courtois, Jennifer S. Coelho, Adam S. Radomsky, Mimi Israël, Howard Steiger
Belangrijke opmerkingen
A portion of the results of this study were presented as a poster presentation in May 2013 at the 7th Canadian Psychological Association Convention in Quebec City, Canada.
Abstract
Thought–shape fusion (TSF) is a belief that entails perceptions of weight gain, moral transgression, and body dissatisfaction when thinking about food consumption. The objectives of the current study were to (1) investigate whether high TSF endorsement is associated with differences in cognitive, affective and behavioural reactions to a TSF induction in comparison to those who are low in TSF, and (2) evaluate whether TSF shows temporal stability. TSF was assessed in 32 individuals with eating disorders over a 1-month period. Participants were classified as either low (
n
= 16) or high (
n
= 16) in trait TSF. Participants attended three sessions (baseline, experimental session, and follow-up), and were exposed to a TSF induction during the experimental session. High correlations were found for trait TSF scores between baseline and follow-up appointments. Furthermore, high TSF individuals were more vulnerable to the induction, with higher negative affect and state TSF, and more food-related thoughts at follow-up in comparison to those low in TSF. These findings indicate that TSF is a stable belief holding clinical relevance.