Gepubliceerd in: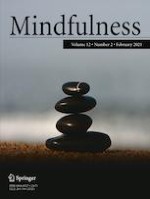 11-05-2020 | ORIGINAL PAPER
A Component Analysis of the Mindfulness-Based Positive Behavior Support (MBPBS) Program for Mindful Parenting by Mothers of Children with Autism Spectrum Disorder
Gepubliceerd in: Mindfulness | Uitgave 2/2021
Log in om toegang te krijgen
Abstract
Objectives
Mindfulness-Based Positive Behavior Support (MBPBS) has been shown to be effective in reducing stress and burnout in parents and professional caregivers of children and adolescents with intellectual and developmental disabilities (IDD) and autism spectrum disorder (ASD). The aim of this study was to assess the comparative effects of the mindfulness (MB) and positive behavior support (PBS) components against the MBPBS program for mindful parenting.
Methods
The study utilized a three-arm randomized controlled trial design, with a 10-week pre-treatment control condition, 30 weeks of intervention, and 3 years of post-intervention follow-up. Mothers of children with ASD were randomly assigned to the MB, PBS, and MBPBS conditions and provided 3 days of training specific to each condition. The effects of these programs were assessed on the mothers (i.e., training attendance, meditation time, perceived psychological stress) and spillover effects were assessed on their children with ASD (i.e., aggression, disruptive behavior, compliance with mothers' requests).
Results
Mothers in the MBPBS condition reported greater reductions in perceived psychological stress, followed by those in the MB condition, and with no significant changes reported by those in the PBS condition. Reduction in the children's aggression and disruptive behavior followed a similar pattern, with most to least significant reductions being in MBPBS, MB, and PBS condition, respectively. Significant increases in compliance (i.e., responsiveness to mothers' requests) were largest in the MBPBS condition, followed by MB, and then PBS. Changes across all variables for both mothers and their children were maintained for 3 years post-intervention. After time and training type were controlled for, meditation time was a significant predictor in reducing aggressive and disruptive behaviors, and in enhancing compliance of the children with mothers' requests.
Conclusions
Positive outcomes for mothers and their children with ASD were significantly greater in the MBPBS condition, followed by the MB condition, and least in the PBS condition. MBPBS appears to be an effective mindful parenting program on the assessed variables.