01-03-2012 | Uitgave 1/2012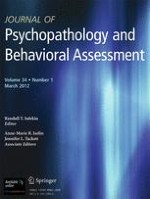 A Chinese Adaptation of the Distress Tolerance Scale among Adolescents: Factor Structure and Psychometric Properties
Auteurs:

Jianing You, Freedom Leung
Belangrijke opmerkingen
The first author of this manuscript, Jianing You, is a Ph.D. candidate of Department of Psychology, the Chinese University of Hong Kong. She obtained her M.Phil degree from the same department. Her research interest lies in disordered personality assessment, borderline personality disorder, adolescent nonsuicidal self-injurious behaviors and other psychopathology. She has been involved in research projects regarding the prevalence and construct validity of borderline personality disorder and longitudinal variations in nonsuicidal self-injury among Hong Kong Chinese adolescents.
Abstract
This study examined the psychometric properties of a Chinese adaptation of the Distress Tolerance Scale (DTS; Simons & Gaher.
Motivation and Emotion, 29
, 83–102,
2005
) among 5,423 (2,857 boys) Chinese adolescents. Results of the confirmatory factor analyses supported a hierarchical model encompassing four first-order factors: Tolerance, Absorption, Appraisal and Regulation, and one second-order factor, General Distress Intolerance, which was comprised of the first three first-order factors. Acceptable levels of internal consistency and 6-month test-retest reliability were demonstrated in the second-order and all first-order factors. The Chinese DTS also displayed good convergent and discriminant validity with negative emotion, emotion reactivity and maladaptive impulsive coping behaviors. Chinese adolescent girls possessed lower distress tolerance ability than their boy counterparts. Additionally, the strength of associations between distress tolerance and negative affectivity was larger in girls than in boys. This study suggests that the Chinese DTS appears to be a psychometrically sound measure of distress (in)tolerance among adolescents.