2016 | OriginalPaper | Hoofdstuk
8 Eetstoornissen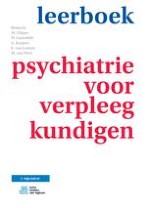 eerste hoofdstuk lezen
Auteurs: Dr. J.A. Bloks, C. van den Brink
Uitgeverij: Bohn Stafleu van Loghum
Samenvatting
Eetstoornissen manifesteren zich als disfunctioneel eetgedrag, langs een spectrum met drie verwante parameters: voedselbeperking, purgeergedrag (braken of misbruik van laxeermiddelen) en overeten (paragraaf 8.1).

Binnen de DSM-5 worden de eetstoornissen onderverdeeld in anorexia nervosa, boulimia nervosa, de eetbuistoornis (binge-eating disorder) en de categorie andere gespecificeerde of ongespecificeerde voedings- of eetstoornis (in oudere classificaties eetstoornissen 'niet anderszins omschreven') (box 8.1-8.4).

De queteletindex (QI) ofwel body-mass index (BMI; het gewicht gedeeld door de lichaamslengte in het kwadraat) wordt gebruikt als maat voor ondergewicht, normaal gewicht of overgewicht. Een normale BMI ligt tussen 19 en 25 (paragraaf 8.2.1).

Voor kinderen en adolescenten kan gebruik worden gemaakt van groeicurven om het relatieve gewicht ten opzichte van leeftijdsgenoten vast te stellen (paragraaf 8.2.1).

Overbezorgdheid over het figuur en gewicht moet worden onderscheiden van de angst om dik te worden ('gewichtsfobie') (paragraaf 8.2.2).

Vaststellen van een gestoord lichaamsbeeld kan bij anorexiapatiënten moeilijk zijn, doordat zij ontkennen dat zij zich dik of vet voelen (paragraaf 8.2.3).

Patiënten met een eetstoornis die vegetarisch eten, blijken zich meer beperkingen in voedsel op te leggen dan niet-vegetariërs (paragraaf 8.2.4).

Kenmerkend voor de boulimische eetbui is het ervaren controleverlies (paragraaf 8.2.5).

'Overeten' betekent dat er meer wordt gegeten dan het lichaam nodig heeft voor het normale functioneren, het uitvoeren van activiteiten en het handhaven van de energiereserves (paragraaf 8.2.5).

Compensatiegedrag omvat acties om het gewicht op peil te houden zoals braken, laxeren, allerlei afslankmiddelen, eetlustremmers en/of amfetamine nemen, overmatige lichaamsbeweging en dergelijke (paragraaf 8.2.6).

Het uitblijven van tenminste drie achtereenvolgende menstruaties (amenorroe) is een belangrijk symptoom van anorexia nervosa (8.2.7).

Mannen met een eetstoornis zijn in het algemeen lichamelijk overactiever dan vrouwen, maar ze gebruiken minder laxantia en afslankmiddelen (paragraaf 8.2.8).

De prevalentie van eetstoornissen wordt geschat op 0,5-1,0% voor anorexia nervosa, 2% voor boulimia nervosa, 1% voor de eetbuistoornis en 12% voor de eetstoornis NAO. Eetstoornissen komen voor circa 95% voor bij vrouwen (paragraaf 8.3).

De belangrijkste risicofactoren voor het ontwikkelen van een eetstoornis zijn zorgen om het gewicht, lijnen en een negatief lichaamsbeeld. Overigens zijn er verschillende verklaringsmodellen, vanuit de lichamelijke ontwikkeling, sociale factoren, psychologie/coping, fysiologie en erfelijkheid (paragraaf 8.4 en 8.5).

Bij de behandeling van eetstoornissen zijn de therapeutische relatie en de motivatie van de patiënt cruciaal. Met de motivatiecirkel van Prochaska kan zicht worden verkregen op de motivatie van de patiënt en op wat vereist is om de motivatie te vergroten. Overigens kan worden gewerkt met

motivational interviewing

(paragraaf 8.7.1) (zie ook hoofdstuk 2).

Bij de behandeling van eetstoornissen wordt gewerkt met een tweesporenbeleid, gericht op symptoomcontrole en de achterliggende problematiek (paragraaf 8.7.2).

Redenen voor opname/klinische behandeling van eetstoornissen zijn:

BMI < 13;

snel afvallen met dreigend gevaar;

hypokaliëmie (te laag kaliumgehalte van het bloed), bijvoorbeeld bij veel braken;

ernstige symptomen zoals veelvuldig gebruik van laxantia;

psychiatrische comorbiditeit, bijvoorbeeld een depressie;

uitputting van het zorgsysteem;

sociaal isolement;

ambulante behandeling is niet succesvol (paragraaf 8.7.3).

De eerst aangewezen behandelingsmethode voor boulimia nervosa en de eetbuistoornis is cognitieve gedragstherapie (paragraaf 8.7.4).

Bij eetstoornissen is systeemtherapie (inclusief psycho-educatie) zinvol (paragraaf 8.7.5).

De mortaliteit van anorexia nervosa is circa 10% ten gevolge van de aandoening en 5% ten gevolge van suïcide. Van de anorexia- en boulimianervosapatiënten herstelt iets minder dan 50% na behandeling. Circa 25% ontwikkeld een langdurige eetstoornis (LES) (paragraaf 8.8).