2015 | OriginalPaper | Hoofdstuk
6 Richtlijnen als hulpmiddel bij de verbetering van de zorg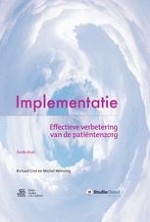 eerste hoofdstuk lezen
Auteurs: dr. Jako Burgers, dr. Mirrian Smolders, dr. Hub Wollersheim, prof.dr. Richard Grol
Uitgeverij: Bohn Stafleu van Loghum
Samenvatting
Richtlijnen zijn een van de hulpmiddelen in de vertaalslag van onderzoeksresultaten en nieuwe inzichten naar de klinische praktijk waardoor de kwaliteit van zorg kan worden verbeterd.

Of richtlijnen de kwaliteit van zorg daadwerkelijk verbeteren, hangt af van meerdere factoren, waaronder kenmerken van de richtlijn zelf.

Kenmerken van richtlijnen die kunnen bijdragen aan hun gebruik in de praktijk zijn onder andere:

een duidelijke doelstelling en specifieke doelgroep zijn omschreven;

de wetenschappelijke onderbouwing van de aanbevelingen is duidelijk beschreven en up-to-date;

de richtlijn sluit aan bij de opvattingen, normen en waarden van de doelgroep;

de formulering van de aanbevelingen is helder en voldoende specifiek;

de richtlijn laat ruimte voor aanpassingen gericht op de individuele patiënt;

de structuur van de richtlijn is helder en de lay-out is attractief;

de richtlijn is eenvoudig te raadplegen in de praktijk via een samenvatting, flowchart of elektronische applicaties.

Richtlijnen die worden ontwikkeld binnen een gestructureerd en gecoördineerd programma waarbij de doelgroep actief betrokken wordt, zijn het meest effectief.

Ten behoeve van de implementatie kunnen landelijke richtlijnen als basis worden gebruikt voor de ontwikkeling van afgeleide producten specifiek gericht op de verschillende beroepsgroepen en patiënten en van lokale protocollen en werkafspraken.