11-04-2019 | Original Article | Uitgave 5/2019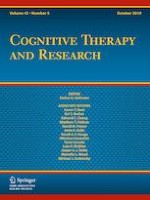 4/20 Cannabis Use is Greater than Other High-Risk Events: Identification of Psychosocial Factors Related to 4/20 Use
Tijdschrift:
Auteurs:

Katherine Walukevich-Dienst, Julia D. Buckner
Belangrijke opmerkingen
Publisher's Note
Springer Nature remains neutral with regard to jurisdictional claims in published maps and institutional affiliations.
Abstract
Cannabis is the most commonly used federally illicit drug, yet little research has identified risk factors for high-risk use. Although April 20 ("4/20") has been identified as a day on which cannabis users use more cannabis than they typically do, it remains unknown whether 4/20 is a high-risk event for greater use than other heavy use days (e.g., other holidays) and whether use on 4/20 is related to greater use-related problems. Such information has important implications for event-specific prevention efforts. Thus, the present study tested whether 4/20 is associated with greater cannabis use than other high-risk cannabis use events (e.g., Spring Break), whether 4/20 cannabis use is associated with event-specific use-related problems and subjective intoxication, and whether event-specific psychosocial factors (i.e., motives, normative beliefs) influence 4/20 use among 68 past-year cannabis using undergraduates who reported using cannabis on 4/20 (in a state where cannabis is legal for medical but not recreational purposes). A majority reported experiencing problems related to their 4/20 use and use was greater on 4/20 than on all other high-risk days. Quantity of 4/20 use was significantly, positively correlated with 4/20 cannabis use-related problems and subjective intoxication. 4/20-specific descriptive norms were a stronger predictor of 4/20 cannabis use and use-related problems than 4/20-specific cannabis use motives whereas 4/20-specific enjoyment motives were stronger predictors of subjective intoxication on 4/20. The current study identifies 4/20 as an especially high-risk cannabis use event and is the first to test psychosocial factors related to 4/20 use and use-related problems. Event-specific descriptive norms and enjoyment motives may be important targets for campus-wide efforts to prevent risky use on this high-use day.