01-12-2017 | Research | Uitgave 1/2017 Open Access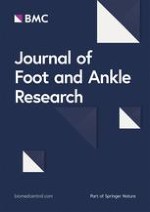 3-D computer modelling of malunited posterior malleolar fractures: effect of fragment size and offset on ankle stability, contact pressure and pattern
Tijdschrift:
Auteurs:

Teresa Alonso-Rasgado, David Jimenez-Cruz, Michael Karski
Abstract
Background
The positioning of the fracture fragment of a posterior malleolus fracture is critical to healing and a successful outcome as malunion of a posterior malleolar fracture, a condition seen in clinical practice, can affect the dynamics of the ankle joint, cause posterolateral rotational subluxation of the talus and ultimately lead to destruction of the joint. Current consensus is to employ anatomic reduction with internal fixation when the fragment size is larger than 25 to 33% of the tibial plafond.
Methods
A 3-dimensional finite element (FE) model of ankle was developed in order to investigate the effect of fragment size (6–15 mm) and offset (1–4 mm) of a malunited posterior malleolus on tibiotalar joint contact area, pressure, motion of joint and ligament forces. Three positions of the joint were simulated; neutral position, 20° dorsiflexion and 30° plantarflexion.
Results
Compared to the intact joint our model predicted that contact area was greater in all malunion scenarios considered. In general, the joint contact area was affected more by section length than section offset. In addition fibula contact area played a role in all the malunion cases.
Conclusions
We found no evidence to support the current consensus of fixing posterior malleolus fractures of greater than 25% of the tibial plafond. Our model predicted joint instability only with the highest level of fracture in a loaded limb at an extreme position of dorsiflexion. No increase of peak contact pressure as a result of malunion was predicted but contact pattern was modified. The results of our study support the view that in cases of posterior malleolar fracture, posttraumatic osteoarthritis occurs as a result of load on areas of cartilage not used to loading rather than an increase in contact pressure. Ankle repositioning resulted in increased force in two ankle ligaments. Our finding could explain commonly reported clinical observations.