2016 | OriginalPaper | Hoofdstuk
28 De overgangsjaren en de postmenopauze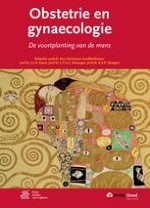 eerste hoofdstuk lezen
Auteurs: prof.dr. M.J. Heineman, prof.dr. J.L.H. Evers, prof.dr. L.F.A.G. Massuger, prof.dr. E.A.P. Steegers
Uitgeverij: Bohn Stafleu van Loghum
Samenvatting
De overgang is een levensfase van de vrouw waarin wederom veranderingen in haar lichaam optreden die nu rechtstreeks samenhangen met het verouderingsproces in haar eierstokken die weer tot gevolg hebben dat de productie van haar geslachtshormonen gaat haperen en uiteindelijk ophoudt. Biologisch gezien manifesteert de overgang zich in de periode vóór de menopauze voornamelijk in sterke schommelingen in de geslachtshormoonspiegels terwijl in de jaren na de menopauze permanent lage hormoonspiegels bestaan. Juist de schommelingen in de hormoonspiegels veroorzaken bij de meeste vrouwen reeds snel verschijnselen in de vorm van veranderingen in het cycluspatroon, het optreden van opvliegers en nachtelijke transpiratieaanvallen of met urogenitale atrofieverschijnselen. Deze verschijnselen kunnen al dan niet aanleiding tot klachten geven. De overgang duurt bij de een wat korter en bij de ander wat langer; in Nederland is de gemiddelde duur van de overgang zo'n vier jaar.
Er is echter tijdens de overgang dikwijls meer aan de hand dan alleen maar veranderingen in de vrouwelijke hormoonspiegels. De overgang ligt ingebed in een levensfase waarin zorgen over ouder worden (en maatschappelijk niet meer meetellen) meewegen. Daarnaast eisen niet alleen de vorige, maar ook de volgende generatie veel aandacht op: kinderen zijn in de puberteit of net het huis uit en eigen ouders hebben dikwijls meer zorg nodig. Een op de honderd vrouwen komt vóór het 40e levensjaar al in de overgang (familiair, na chemotherapie, bestraling of operatie) en voor deze groep kan de daarmee gepaard gaande onvruchtbaarheid zwaar wegen. Vrouwen die veel roken, komen veelal ook eerder in de overgang en vergroten daardoor nog eens extra het toch al hogere risico op het krijgen van hart- en vaatziekten.
Vrouwen vinden voorlichting over de overgang, over de fysiologie en over de kans op individuele gezondheidsrisico's (zowel op korte als op lange termijn) minstens zo belangrijk als eventuele behandeling. Vrouwen die goed geïnformeerd zijn over de lichamelijke uitingen van de overgangsjaren, ervaren vaak minder klachten en hebben dus minder behoefte aan medicatie. Toch moet behandeling van typische overgangsklachten serieus overwogen worden voor die vrouwen bij wie deze symptomen zodanige hinder geven dat het dagelijks functioneren er in ernstige mate door verstoord wordt.
Hormonale therapie is voor deze klachten bewezen effectief. Een verhoogd risico op mammacarcinoom is gevonden na vijf jaar hormoongebruik na het 50e levensjaar. Voor de behandeling van overgangsklachten kan vrijwel altijd een kortere gebruiksduur volstaan. Er is geen plaats voor het gebruik van hormoontherapie voor preventieve doeleinden.