2012 | OriginalPaper | Hoofdstuk
25 Conservatieve therapie bij Osgood-Schlatter: To treat or not to treat?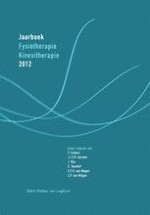 eerste hoofdstuk lezen
Auteur: Youri Thijs
Uitgeverij: Bohn Stafleu van Loghum
Samenvatting
» Een deel van de groeiende adolescenten, voornamelijk sportende jongeren, kan te maken krijgen met geleidelijk opkomende pijnklachten ter hoogte van de tuberositas tibia die te wijten kunnen zijn aan de ziekte van Osgood-Schlatter. Vooral jongeren die sporten beoefenen met veel rennen, springen, squatten en andere krachtige strekbewegingen van de knie, lopen risico. Er is vandaag de dag echter nog steeds weinig of geen wetenschappelijke evidence voor het effect van conservatieve behandelmethoden op het herstelproces van Osgood-Schlatter. Aangezien de aandoening in de meeste gevallen vanzelf verdwijnt wanneer de jonge patiënt volgroeid is, gaan sommige onderzoekers ervan uit dat de enige therapie bestaat uit rusten, zich onthouden van pijnuitlokkende activiteiten en wachten tot de klachten overgaan. Anderen stellen echter dat conservatieve kinesitherapeutische interventies zoals ijsapplicatie, rekoefeningen van de hamstrings en m. quadriceps en geleidelijk opbouwende spierversterkende oefeningen voor de m. quadriceps (binnen de pijngrens in een laag actueel stadium), samen met het gebruik van pijnstillende en ontstekingswerende medicatie, een gunstige invloed op het herstelproces van deze aandoening kunnen hebben.