2015 | OriginalPaper | Hoofdstuk
22 Evaluatie van het proces van implementatie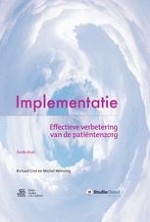 eerste hoofdstuk lezen
Auteurs: prof.dr. Marlies Hulscher, drs. Miranda Laurant, prof.dr. Michel Wensing, prof.dr. Richard Grol
Uitgeverij: Bohn Stafleu van Loghum
Samenvatting
Het is noodzakelijk om in de black box van implementatiestrategieën te kijken om te begrijpen waarom strategieën soms effectieve verandering in de patiëntenzorg teweegbrengen en soms niet. Op deze wijze kunnen de determinanten van succes of falen worden bestudeerd.

Procesevaluatie is gericht op het gedetailleerd beschrijven van de ontwikkelde implementatiestrategie, de daadwerkelijk uitgevoerde strategie, de deelname van de doelgroep aan de strategie, en de ervaringen van de deelnemers met de strategie. Procesevaluatie is een belangrijke stap in de ontwikkeling van potentieel effectieve implementatiestrategieën; het is een noodzakelijk stap in het begrijpen van hun succes of falen.

In verbeterprojecten staat procesevaluatie centraal omdat informatie over uitvoerbaarheid en haalbaarheid aanknopingspunten kan bieden voor de bijstelling van de gekozen implementatieactiviteiten.

In experimentele implementatiestudies en implementatieprogramma's levert procesevaluatie informatie die de totstandkoming van effecten en hun heterogeniteit helpt verklaren.

Het raamwerk zoals beschreven in dit hoofdstuk besteedt aandacht aan kenmerken van de deelnemers, de invoerders en de frequentie van implementatieactiviteiten, en aan de kenmerken van de overgedragen informatie. Al deze kenmerken zouden de effectiviteit van de gekozen implementatiestrategie kunnen beïnvloeden.