2015 | OriginalPaper | Hoofdstuk
20 Effecten van implementatie: gecontroleerde evaluaties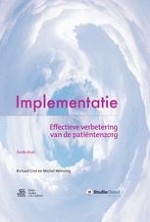 eerste hoofdstuk lezen
Auteurs: prof.dr. Trudy van der Weijden, MD, FMedSci, FRCP, FRCGP prof. Martin Eccles, MBCHb, FRCGP prof.dr. Jeremy Grimshaw, prof.dr. Richard Grol
Uitgeverij: Bohn Stafleu van Loghum
Samenvatting
Er is een reeks van meer of minder complexe, en al dan niet gecontroleerde of gerandomiseerde onderzoeksopzetten beschikbaar voor de evaluatie van de effecten van implementatieprojecten.

Terwijl met een niet-gecontroleerd design alleen nagegaan kan worden of de verbeterdoelen daadwerkelijk worden gehaald, kan met een gecontroleerd design geëvalueerd worden of de implementatiestrategie heeft bijgedragen aan het halen van de verbeterdoelen.

Bij gecontroleerde studies heeft het gerandomiseerd design de voorkeur. Indien gerandomiseerde designs niet haalbaar zijn kunnen niet-gerandomiseerde designs worden toegepast, hoewel de kans op systematische vertekening van het effect van de implementatiestrategie hierbij groter is.

Voor welk design ook wordt gekozen, het is van belang om systematische vertekening zo veel mogelijk te beperken en de generaliseerbaarheid van de resultaten zo groot mogelijk te maken.

In het toepassen van deze designs is het van belang om het juiste clusterni• veau te kiezen voor de allocatie van onderzoeksgroepen; dat is vaak niet het niveau van de individuele patiënt.

Bij clustergerandomiseerde studies moet gewaakt worden voor postrando• misatie

recruitment

bias, dat wil zeggen: een verschil in

recruitment

tussen de zorgverleners in de experimentele en controlegroep.

Wanneer de nadruk ligt op evaluatie van het effect van een implementatie• strategie, zijn trials in kleine groepen van voorlopers met relatief optimale condities (explanatoir karakter) aangewezen. Wanneer de nadruk ligt op het beklijven van het effect van een implementatiestrategie op lange termijn, dan zijn trials met een uitgesproken pragmatisch karakter aangewezen.