2016 | OriginalPaper | Hoofdstuk
20 Aan de zwangerschap gebonden afwijkingen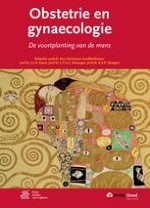 eerste hoofdstuk lezen
Auteurs: prof.dr. M.J. Heineman, prof.dr. J.L.H. Evers, prof.dr. L.F.A.G. Massuger, prof.dr. E.A.P. Steegers
Uitgeverij: Bohn Stafleu van Loghum
Samenvatting
Een spontane miskraam is een frequent voorkomende complicatie van de zwangerschap die meestal berust op aanlegstoornissen van de vrucht. Als de dreigende miskraam doorzet, wordt het zwangerschapsproduct vaak binnen een week na het eerste bloedverlies volledig uitgestoten. Operatief ingrijpen is dan niet nodig. Bloedverlies, gepaard gaand met onderbuikspijn, kan ook het gevolg zijn van een EUG en andere gynaecologische aandoeningen.
Vroeggeboorte is een van de belangrijkste determinanten van perinatale sterfte en neonatale morbiditeit. Het is dan ook van belang dreigende vroeggeboorte tijdig te onderkennen en zo nodig te behandelen. Relatief nieuw is de echoscopische meting van de cervixlengte. Vrouwen met een korte cervix hebben een verhoogde kans op vroeggeboorte, vooral als ze klachten hebben die wijzen op een dreigende vroeggeboorte. Vermeldenswaard is dat grootschalige introductie van weeënremmende middelen (β-sympathicomimetica) geen merkbare invloed heeft gehad op de incidentie van vroeggeboorte in de westerse wereld. In combinatie met tijdig toegediende corticosteroïden hebben weeënremmers een gunstig effect op de incidentie van neonatale sterfte en morbiditeit.
Serotiniteit kan het gevolg zijn van de natuurlijke biologische variatie van de duur van de zwangerschap of van een verkeerd berekende termijn. In de praktijk is het onderscheid hiertussen niet altijd mogelijk. Serotiniteit gaat gepaard met een verhoogde kans op perinatale sterfte. Op grond daarvan worden de baring bij vrouwen vaak voor de 42e week ingeleid.
Hyperemesis gravidarum kan het gevolg zijn van psychogene en somatische aandoeningen, maar doorgaans is de oorzaak niet bekend. Na ziekenhuisopname nemen de klachten meestal direct in ernst af, zonder enige vorm van behandeling.
Een mijlpaal in de verloskunde vormt de preventie van immunisatie van de rhesus(D)-negatieve vrouw door toediening van anti-D-immunoglobuline na de geboorte van een rhesus(D)-positief kind. Deze vorm van profylaxe werd in Nederland eind jaren zestig geïntroduceerd en heeft geleid tot een flinke daling van de incidentie van nieuwe Rh(D)-immunisaties. Het in 1998 ingevoerde programma, waarbij aan alle Rh(D)-negatieve zwangeren, zonder levende kinderen, anti-D-immunoglobuline (anti-D) wordt toegediend bij een zwangerschapsduur van 30 weken, heeft tot een verdere daling van het aantal nieuwe sensibilisaties geleid. Inmiddels kan aan de hand van foetale rhesus(D-)typering in maternaal serum meer gericht anti-D worden toegediend. Als sprake is van rhesussensibilisatie kunnen met echoscopisch onderzoek tekenen van ernstige foetale anemie worden vastgesteld. Door middel van intra-uteriene bloedtransfusie kunnen de ernstige gevolgen van deze bloedarmoede grotendeels worden voorkomen.
Jarenlang intensief onderzoek heeft het inzicht in de ontstaanswijze van hypertensieve complicaties in de zwangerschap sterk verbeterd. Pre-eclampsie – de meest bekende hypertensieve complicatie – is een verraderlijk ziektebeeld met soms ernstige consequenties voor de gezondheid van moeder en kind. De pathogenese van vroege pre-eclampsie (vóór de 34e week) lijkt met een deficiënte placenta-aanleg te beginnen. Zolang de vervolgens beperkte placentafunctie blijft voldoen aan de aanvankelijk nog bescheiden vraag naar zuurstof en voedingsstoffen, blijft ook het ziektebeeld latent. Zodra de vraag het aanbod overtreft, ontstaat er intervilleuze hypoxie die gepaard gaat met het bovenmatig vrijkomen van antiangiogenetische factoren, vrije zuurstofradicalen en trofoblastmicropartikels. In de circulatie veroorzaken deze stoffen systemische endotheeldisfunctie en daarmee circulatoire stress en de daaruit voortvloeiende symptomen zoals hypertensie, proteïnurie en gegeneraliseerd oedeem. Bij het HELLP-syndroom staan een gestoorde leverfunctie en trombopenie op de voorgrond, terwijl bij eclampsie een hypertensieve encefalopathie het klinisch beeld domineert.
Afgezien van de – overigens zeldzame – levensbedreigende hersen- en leverbloedingen, treedt er binnen enkele dagen na de bevalling vrijwel altijd een verbetering van de algemene gezondheid van de moeder op. De prognose van het kind wordt vooral bepaald door de mate van vroeggeboorte, de ernst van de groeiachterstand en het feit of het kind intra-uterien korte of langere tijd aan een zuurstoftekort heeft blootgestaan. Pre-eclampsie heeft vele gezichten en kan soms fulminant verlopen. Daarom dient men bij iedere bloeddrukstijging tijdens de zwangerschap na te gaan of die al dan niet een signaal is van een beginnende hypertensieve complicatie.
Pijnloos bloedverlies tijdens de tweede helft van de zwangerschap kan het gevolg zijn van placenta praevia. De diagnose wordt gesteld met behulp van echoscopie. Een littekenuterus is een risicofactor voor placenta praevia. Met de mondiale toename van het aantal keizersneden valt ook een flinke stijging van het aantal zwangerschappen dat wordt gecompliceerd door placenta praevia te verwachten. Abruptio placentae wordt in het algemeen gekenmerkt door pijnlijk bloedverlies. Foetale nood of foetale sterfte treedt op afhankelijk van de uitgebreidheid van de placentaloslating. Daarnaast kan bloedverlies het gevolg zijn van een dreigende vroeggeboorte. In zeldzame gevallen is het bloedverlies tijdens de tweede helft van de zwangerschap het gevolg van cervixpathologie.
Abnormale foetale groei kan zowel tot een te laag als tot een te hoog geboortegewicht leiden. Abnormale foetale groei wordt bij voorkeur vastgesteld met behulp van herhaalde echoscopische meting van de hoofd- en buikomtrek. Dopplerultrageluidsmetingen verschaffen informatie over de uteroplacentaire doorbloeding en de foetale toestand. Voor het verloskundig beleid is echter uiteindelijk het foetale CTG beslissend. De prognose van abnormale foetale groei wordt bepaald door de oorzaak en ernst van de foetale groeistoornis.