2015 | OriginalPaper | Hoofdstuk
16 Patiëntveiligheid en risicopreventie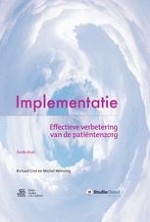 eerste hoofdstuk lezen
Auteurs: dr. Hub Wollersheim, prof.dr. Michel Wensing, prof.dr. Richard Grol
Uitgeverij: Bohn Stafleu van Loghum
Samenvatting
Bij metingen bedraagt de prevalentie van schade aan patiënten op basis van incidenten in ziekenhuizen ongeveer 10%, waarvan de helft te voorkomen is. Het aantal patiënten met een incident in de huisartspraktijken, met of zonder schade, is ongeveer 5% per jaar.

Er zijn diverse methoden om onveiligheid te meten en te analyseren, zoals dossieronderzoek en het melden en analyseren van incidenten. Elk van de methodieken heeft voor- en nadelen en de uitkomsten kunnen aanzienlijk verschillen.

Naast fouten in het klinisch redeneren blijken interprofessionele en interdepartementale communicatie en samenwerking, vergissingen tijdens stresserende situaties, problemen met apparatuur, en gebrekkige training of ervaring belangrijke oorzakelijke factoren.

Er is weinig goed onderzoek gedaan naar het verbeteren van de patiëntveiligheid.