2015 | OriginalPaper | Hoofdstuk
13 Feedback en reminders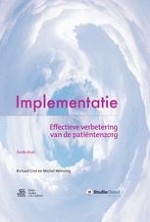 eerste hoofdstuk lezen
Auteurs: prof.dr. Trudy van der Weijden, prof.dr. Richard Grol
Uitgeverij: Bohn Stafleu van Loghum
Samenvatting
Feedback en reminders kunnen effectief zijn, maar het effect is afhankelijk van de aard en kwaliteit van de onderliggende innovatie, inzicht in knelpunten voor toepassing van die innovatie, en de mate waarin de feedback of reminders op die knelpunten zijn toegesneden.

Het effect van feedback of reminders wordt beïnvloed door de motivatie van de ontvanger, de timing en frequentie van de feedback en reminders, en het type gegevens waarover de feedback of de reminder gaat (bron, validiteit, hoeveelheid, vorm, actief of passief format).

Het weergeven van vergelijkende informatie over collega's kan de zorgverlener stimuleren in het bestuderen van de feedback. Toevoegen van intercollegiale toetsing aan deze feedback kan het effect versterken.

Feedback en reminders zijn relatief veel onderzocht, en lijken met name geschikt voor implementatie van veranderingen in aanvullende diagnostiek, prescriptie en primaire preventie.